MAY FOOD SCHOOLS
May 02, 2017 @ 1:00 pm
May 11, 2017 @ 5:30 pm
May 16, 2017 @ 1:00 pm
May 23, 2017 @ 1:00 pm
May 30, 2017 @ 1:00 pm

Act FAST
FAST is an easy way to remember and identify the most common symptoms of a stroke. Recognition of stroke and calling 9-1-1 will determine how quickly someone will receive help and treatment. Getting to a hospital rapidly will more likely lead to a better recovery.
Use FAST to Remember the Warning Signs of a Stroke

FACE: Ask the person to smile. Does one side of the face droop?


ARMS: Ask the person to raise both arms. Does one arm drift downward?


SPEECH: Ask the person to repeat a simple phrase. Is their speech slurred or strange?


TIME: If you observe any of these signs, call 9-1-1 immediately.


Call 9-1-1 immediately if you observe any of these symptoms.
Note the time of the first symptom.
This information is important and can affect treatment decisions.
Williams Syndrome
Awareness Month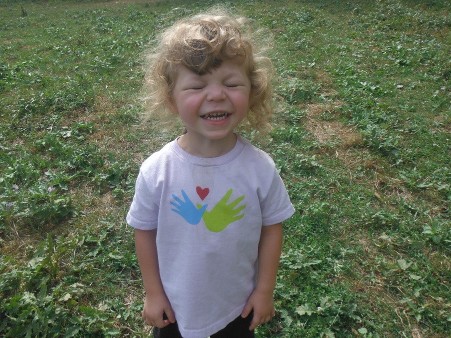 What is Williams Syndrome?
Williams syndrome is a genetic condition that is present at birth and can affect anyone. It is
characterized by medical and cognitive problems, including cardiovascular disease, developmental delays, and learning disabilities. These occur side by side with striking verbal abilities, highly social personalities and an affinity for music.
Williams syndrome affects 1 in 10,000 people worldwide – an estimated 20,000 to 30,000 people in the United States. It is known to occur equally in both males and females and in every culture.
Unlike disorders that can make connecting with your child difficult, children with Williams syndrome tend to be social, friendly and endearing. Parents often say they could not have imagined the joy and perspective their child with Williams syndrome has brought into their lives. Nearly everyone with Williams syndrome loves music, and for some, there is a musicality and eventual talent for mu­sic that is far greater than would be expected based on general functioning levels.
There are major struggles as well. Many babies have life-threatening cardiovascular problems. Children with WS need costly and ongoing medical care, and early interventions (such as speech or occupational therapy) that may not be covered by insurance or state funding. As they grow, they struggle with things like spatial relations, numbers and abstract reasoning, which can make daily tasks a challenge. And as adults, most people with WS need supportive housing to live to their full­est potential. Just as important are opportunities for social interaction. Adults with Williams
syndrome often experience intense isolation which can lead to depression. They are extremely
sociable and experience the normal need to connect with others; however people with Williams syndrome often don't process nuanced social cues and this makes it difficult to form lasting
relationships.
Other characteristics common to Williams syndrome are:
Hypercalcemia (elevated blood calcium levels)
Low birth-weight / slow weight gain
Feeding problems
Dental abnormalities
Kidney abnormalities
Hernias
Hyperacusis (sensitive hearing)
Musculoskeletal problems
By: Williams Syndrome Association
Complied by: Crystal Moran, RN-Public Health Nurse
THE NEED IS GREAT!
Every 10 minutes someone new is added to the nagtional organ transplant list. Nearly 500 West Virginians are waiting for a life-saving organ transplant, and thousands more are in need of a tissue or cornea transplant. 119,000 People are waiting for an organ transplant in the U. S. 22 People die each day for lack of an available organ transplant. Make a decision and help save a life today. For more information on becoming an organ donor call the Webster County Health Department at (304)847-5483
HEALTHY WAYS HEALTHY DAYS
OPENINGS STILL AVAILABLE
CALL THE HEALTH DEPARTMENT
(304)847-5483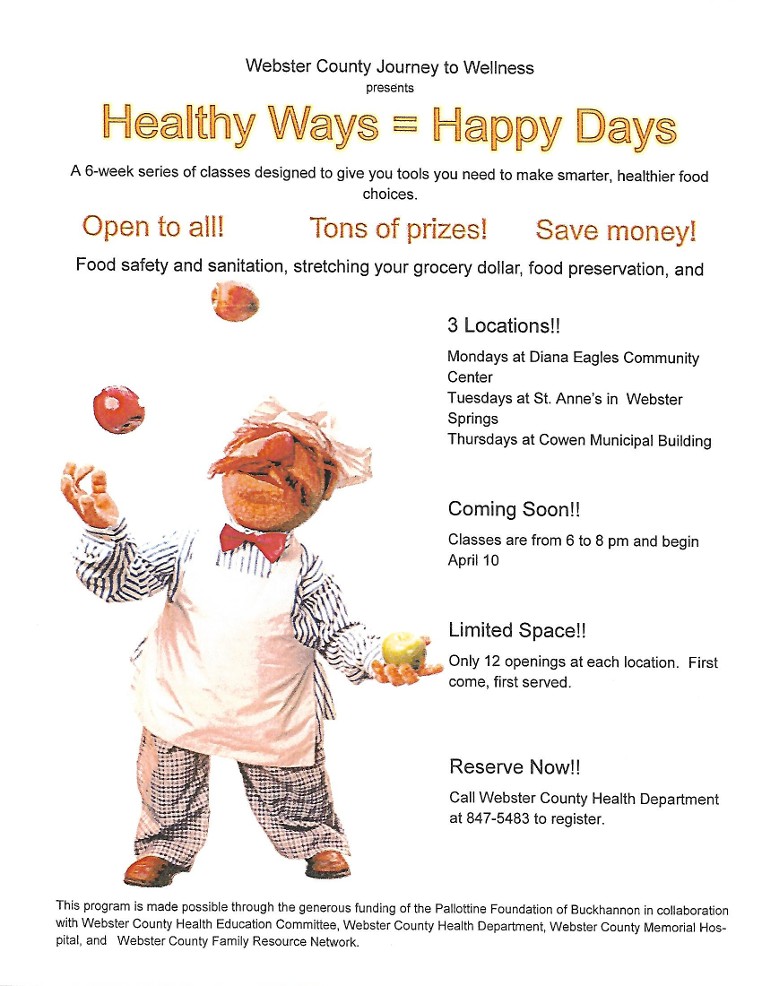 Walking Webster County Newsletter Week #6
Walking Webster County Newsletter Week #5
Walking Webster County Newsletter Week # 4
Walking Webster County Newsletter Week # 3
Walking Webster County Newsletter Week # 2
Walking Webster County Newsletter Week 1
The Webster County Health Department would like to invite you to join us on our 6 week walking challenge. To participate, you must pledge to walk 30 minutes a ...day/5 days a week. The challenge will begin on Monday, April 3 and will last for 6 weeks. We have many signed up to participate from Webster County but would like to invite others in other counties and states to join us. You can walk 30 minutes all at once, 15 minutes twice a day or even 10 minutes 3 times a day. You can walk with our group or even walk in your own back yard. We are eager to see how many of you from other areas are interested in joining up from where ever you live. If interested, please post below or call the Webster County Health Department at 304-847-5483 and let us know where you'll be participating from. Please share with your friends and lets see how many counties and states that we can get participation from. The walk this year is in honor of Elaine Hamilton, who recently passed away from cancer. Elaine has participated in each yearly walk with her husband Wally since "Walking Webster County" first started in 2014. So lets walk for Elaine - or maybe you have someone else you'd like to walk for. If so, let us know when you call to sign up. Let's join together and improve our health over the next six weeks! We will kick off this six week event by meeting on Baker's Island on Monday, April 3 at 12:00 noon. Please join us if you can on the Island - or join us by walking wherever you are at the same time! Remember - call the Webster County Health Dept. at 304-847-5483 to record your steps! This Event is made possible through a grant from the Snowshoe Foundation. Please share!
Walking Webster County 2017 Dates to Remember…………
Monday, April 3, 2017 – Day 1 (kick off at noon on Baker's Island)
Monday, April 3, @ 6:00 p.m. – Meet in WCHD Parking Lot – Bell St. Walk
Monday, April 10 – Beginning of 6 week Healthy Ways = Happy Days Event
Monday, April 10, @ 6:00 p.m – Meet at Napa in WS for Back Fork Walk
Monday, April 17, @ 6:00 p.m. – Meet at old Foodland for Cherry Falls Walk
Monday, April 24, @ McQuire Mtn. Overlook for Kingfisher Road Walk
Monday, May 1 @ Miller Mtn. Methodist Church for Airport Road Walk
Monday, May 8 @ Baker's Island for Walk through town.
Sunday, May 14 – Final Day of 6 week walking program
Week of May 22 – Awards Celebration at 6:00 p.m. – More info to follow.
If you would like to start a walking group in a different area of the County – please let us know. We will help you advertise. Also, if you already have a walking group started, please let us know if you would welcome other walkers. Please call 304-847-5483 for further information and like us on Facebook (Webster County Health Department) for weekly information and newsletters. ("Walking Webster County 2017" made possible through a Snowshoe Grant).
*Alternative Rain Days for Monday walks will be on Thursdays @ 6:00
2017 Walking Webster County
click here for information
_______________________
Patient Guide to Annual Wellness
_________________________________________
Healthy Eating = Healthy Ways
Click here for more information.
May Food Schools
April 4 CANCELLED
April 11 @ 1:00 pm
April 18 @ 1:00 pm
April 25 @ 1:00 pm
"FLU VACCINES"
Think its too late to get the Flu Vaccine now? Not so. According to the Food and Drug Administrations (FDA), vaccinations can be protective as long as flu viruses are circulating, and although seasonal flu outbreaks can happen as early as October, flu activity usually peaks in January or February and can last well into May.
Webster County Health Department has flu shots still available. Call today to get your flu shot (304)847-5483.
April 2017 Immunization Schedule
Wednesday April 5, 8 - 12:00 & 1:00 - 3:30 p.m.
Wednesday April 12, 8 - 12:00 & 1:00 - 3:30 p.m.
Wednesday April 19, 8 - 12:00 & 1:00 - 3:30 p.m.

Wednesday, April 26, 8 - 12:00 & 1:00 - 3:30 p.m.
Please call the (304)847-5483 for further information
WV Tobacco Quitline 1-800-Quit-Now (1-877-966-8784)
Smoking kills more Americans than homicides, suicides, car wrecks, fires, alcohol use, drug use, HIV, and AIDS combined. If interested in quitting please call the Tobacco Quitline listed above.